Le Hoang Quan, Ho Chi Minh City People's Committee chairman, Wednesday ordered relevant districts to speed action on site clearance for completion of the Ba Bo Canal project and on some dyke projects in the city.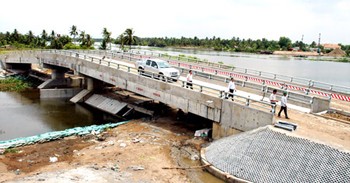 An irrigation project underway on the right bank of Sai Gon River in District 12 (Photo: SGGP)
The city Steering Center on Urban Flood Control reported on the progress made to Quan on the project while he surveyed the construction site on the same day.
The 1,700-meter-long canal located in HCMC and the adjacent province of Binh Duong receives 8,600 cubic meters of wastewater from industrial zones (IZ). The wastewater running through Thu Duc District from IZs in Binh Duong has become a menace to the local people.
The most important to the project is a reservoir which has been dredged for the last three years to regulate the water in the neighboring areas of Thu Duc District and Thuan An District in the province.
The reservoir is currently being dredged to hold 60,000 cubic meters of wastewater from its present capacity of 9,000 cubic meters. This will increase to 220,000-250,000 cubic meters after dredging is complete.
The work should have been completed by the end of 2008 but it is behind schedule due to site clearance problems.
Nguyen Ngoc Cong, the center deputy director, says there are still three households refusing to evacuate on the main route of the canal while ten others don't want to hand over space to dredge the reservoir.
After listening to reports and taking stock of all the situations, Chairman Quan instructed Thu Duc District to gain access to the remaining space by September as the center must mobilize all its resources to complete the project by 2012.
Wastewater accumulated in the reservoir can be used to water trees in parks, Quan said. Along both sides of the canal, the district should do tree planting and grow hedges to protect the canal corridor.
Meanwhile, construction of the dyke on the right bank of Saigon River, stretching from District 8 to Cu Chi District, is almost complete. Only few sections remain due to difficulties in site clearance.
Le Thanh Liem, director of the Agriculture and Rural Development Department, says that after completion, the project will protect districts 12, Go Vap, Hoc Mon and Cu Chi from high tide, flooding, salination and create advantageous conditions for the development of 3,560 hectares of agricultural land in Go Vap, 12 and Hoc Mon districts.
He added that Hoc Mon District must closely monitor and prevent people from encroaching on either side of the river bank or allow any industry to mushroom here but instead develop a green belt in the area by planting fruit trees.