Izumiotsu city in Japanese Osaka province has strengths in garment and textile as well as leather and footwear, which will be favorable conditions for it and Ho Chi Minh City to promote cooperation in these fields in the upcoming time.
The mayor of Izumiotsu receives Mr. Tat Thanh Cang on Sep. 9th, 2016. (Photo: SGGP)
That was stated by standing deputy secretary of the HCMC Party Committee Tat Thanh Cang this morning while paying a courtesy visit to Izumiotsu mayor Haruhiko Ito during a visit by HCMC's high level delegation to Japan.
Mr. Cang hoped that the industry and trade association of Izumiotsu city will intensify collaboration with the Vietnam Textile and Apparel Association and the HCMC Association of Garment Textile Embroidery and Knitting to build information and experience exchange mechanisms.
In addition, they will work to develop the support industry for the garment and textile and leather and footwear, he expected.
According to Mr. Cang, the friendly cooperative relationship and mutual confidence between the two countries have continuously been fortified and developed.
Those were showed through a year by year increase in the number of Japanese businesses seeking investment opportunities in HCMC, Japanese visitors to Vietnam and Vietnamese students and apprentices in Japan. Many Vietnamese nationals have chosen Japan for health care and treatment.
Mayor Haruhiko Ito believed that the HCMC's visit will open and deepen trade promotion activities between the two cities.
"Cultural similarities are the basis for Vietnam and Japan to develop a trusted partnership," Mr. Ito affirmed.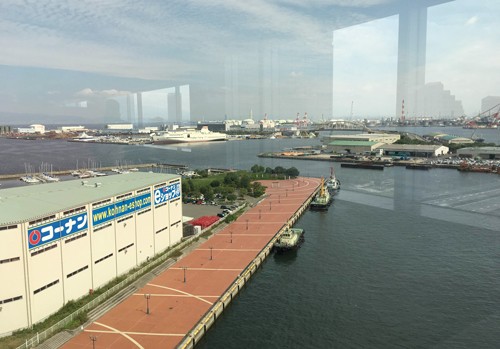 Sakai Senboku seaport in Izumiotsu city (Photo: SGGP)
After the meeting, Mr. Cang and the delegation conducted field trips to learn Japanese experiences in building reclamation works in the city including Sakai Senboku seaport.
They also aimed to refer to Japanese planning of seaports and their connection with local traffic system, airports and international shipping routes.
Subsequently at noon, the delegation visited the Vietnamese Consulate General in Osaka, which Mr. Cang expected to provide a link between HCMC and Japanese localities including Osaca and Izumiotsu to boost investment cooperation.
According to schedule, the delegation will visit Namab Walk emergency control center and Osaka Takashimaya trade center this afternoon. This will be the last activity ending their visit to Japan.
related article:
HCMC leaders join MIPIM 2016
Ho Chi Minh City calls for investment on HCMC- Can Tho High- Speed Railway