Prime Minister Nguyen Xuan Phuc kicked off the largest scale and most expensive anti-flooding construction project ever planned for HCM City yesterday, the latest effort by authorities to deal with chronic flooding problems.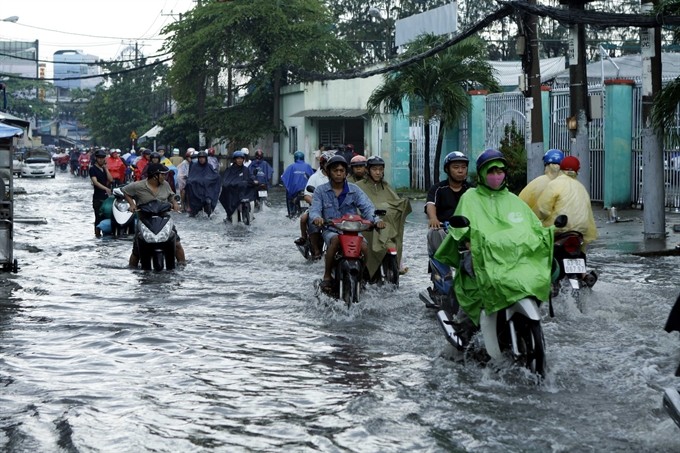 Khuong Viet Street in District 11, HCM City floods with heavy rain, causing chaos for residents moving around the city. The city has started its biggest ever anti-flooding project to control tidal flooding and chronic flooding. (Photo: VNA/VNS)
The construction project will cost VND10 trillion (US$450 million) with build-operate-transfer (BOT) project financing. The goals of the project are to control tidal flooding and to cope with climate change within the 570 square km of HCM City for its population of 6.5 million.
 Around 7.8 km of dyke will be built along the Saigon River.
The project will be carried out over three years and will end in 2018.
Around 300 households with 1,500 people must be removed for the construction.
The project is intended to solve tidal flooding and urban flooding.
At the ceremony, PM Nguyen Xuan Phuc said the project is of great significance to the development of the city. The city needs to develop good infrastructure, particularly flood control facilities, to realise its long-term development goals, according to the PM.
The HCM City's anti-flooding master plan, which was approved by former Primer Minister Nguyen Tan Dung last year, is divided into two parts: urban drainage and controlling tidal flooding.
At present, 60 per cent of HCM City floods at high tide - and 70 per cent of HCM City land is sinking.
Climate change, urbanisation, and higher tides on lower lands all make flooding an important challenge for the city.