Parking space in Ho Chi Minh City for its existing fleet of 12,500 taxis is less then 10 percent, resulting in taxis meandering on streets, adding to the traffic chaos in main city areas.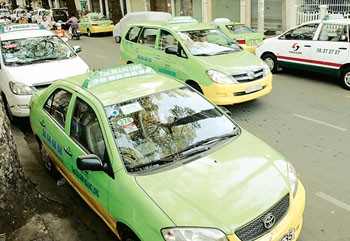 Shortage of parking space leads taxis to meander around streets, adding to the traffic congestion in Ho Chi Minh City (Photo: SGGP)
Le Hong Viet, deputy chief of the Transport Department said that since Decree 34/NĐ-CP took effect from May last year, meant for  fines on taxis driving on the wrong lane or speeding, violations have reduced substantially but drivers now meander around the city looking for passengers, adding to the traffic congestion.
Taxi companies are scrambling in search of adequate parking space for a long time now, without which taxi drivers face fines for parking in no-parking zones.
Many taxi companies have not built parking due to capital shortage and even if they construct the parking, fares will be increased which will be hard to pass on to passengers.
Ta Long Hy, chairman of the HCMC Taxi Association said that they have requested the Department of Transport on several occasions to solve this issue. The department once suggested building parking lots in the outskirts of the city, where a lot of land is available. However, this measure is not feasible as it will raise travel costs and time, with taxis having to drive long distances to pick up passengers, mostly from the city center.