Ho Chi Minh City People's Council Chairwoman Nguyen Thi Quyet Tam proposed to abolish road toll collection on motorcycles, which has aggravated financial burden on residents especially the poor and laborers on Thursday.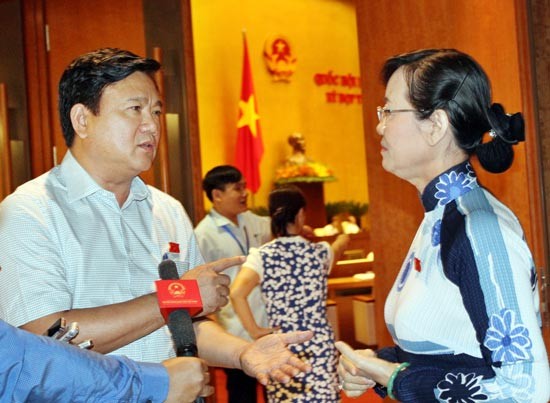 Ms. Tam (R) talks to Minister of Transport Dinh La Thang (Photo: SGGP)
She made the proposal at the ongoing 9th session of the 13th National Assembly discussing the Fee Law and continued talking to Minister of Transport Dinh La Thang about the matter on the meeting's sidelines.
According to Ms. Tam, residents have already paid too many kinds of fees before owning a motorcycle. It is unreasonable to charge the road maintenance fee.
"I proposed to stop collecting this toll because the economy has begun recovering. The people have paid many kinds of taxes," she said.
If the Government spend the budget reasonably and increase the reclaim rate of corrupted properties reaching only 22 percent, they will be quite capable to make up for the road toll revenue.
Another issue is that officials go to work by cars whose toll payment comes from the state budget while residents travel by motorcycles and pay the fee on their own.
Minister of Transport Dinh La Thang said that the road toll policy on motorcycles aimed to create a fund for road maintenance, repair and upgrading especially in rural areas.
A Ministry of Finance's circular on the road maintenance toll collection, management and use specifies that the fee payment subjects and level are ruled by municipal and provincial people's councils, meaning they are totally free to decide the fee collection or not, he explained.
The circular just regulates the ceiling not floor fee level and its revenue will run into local not central budget, he added.
The National Road Maintenance Fund has collected provinces and cities' opinions about the toll charge on motorcycles and 27 of them have made responses. Of these, Ba Ria-Vung Tau and Dong Nai proposed to abolish the fee while the rest 25 others agreed with the collection.
The ministry was waiting for opinions from the other provinces and cities before making any proposal to the Prime Minister, said Mr. Thang.
In response, Ms. Tam said that HCMC was among the latest ones in the country to implement the policy. Ministries and authorized agencies had reminded the city of the fee collection in writing. Therefore, local authorities had discussed and decided to obey the by-law.
Minister Thang reaffirmed that the Ministry of Finance has issued new Circular 133 reducing the fee ceiling level to only VND100,000 for 100 cubic meter motorbikes and VND150,000 for those of higher capacity. Provincial and municipal people's councils are eligible to slash the fee level to 0 dong.
HCMC People's Council will apply the 0 level in accordance with the new regulation, Ms. Tam said.