The Ho Chi Minh City Department of Industry and Trade on November 3 hosted a seminar to announce a plan to develop the city's garment and textile industry by 2020 with visions by 2030.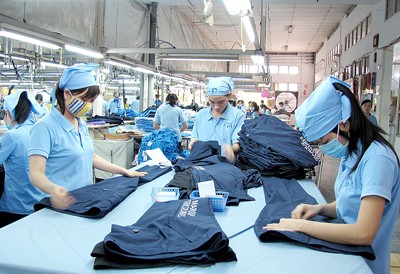 HCMC will become a garment and textile service center by 2020 (Photo: SGGP)
Under plan, it targets that the city's garment & textile industry will become the leading industrial sector, is able to supply the garment & textile services in the southern region and a fashion center in the country.
Accordingly, by 2015, revenue in the garment and textile industry will reach VND37,850 billion, 1.5 time higher than that in 2010. This figure will continue increasing 1.3 fold over 2015 to hit VND47,670 billion by 2020 and 1.33 fold over 2020 to touch VND63,726 billion in the next five years.
HCMC will have six fibre plants producing 150,000 tons by 2015 and seven plants making 200,000 tons by 2020.
The city will set up three textile plants with capacity of 500 million meter fabric in 2015. The number will increase to five plants with 22 million meter fabric in 2020.
Dying establishments will be removed out of the inner city to relocate in the industrial zones (IZs). Material production for the garment and textile industry will move in IZs also.
Delegates at the seminar said that the city should map out policies on training engineers, technicians and designers for the industry development.