Ho Chi Minh City will build 13 additional flyovers and underground walkways for pedestrians in order to reduce traffic gridlocks, according to the Road Infrastructure Management and Development Office.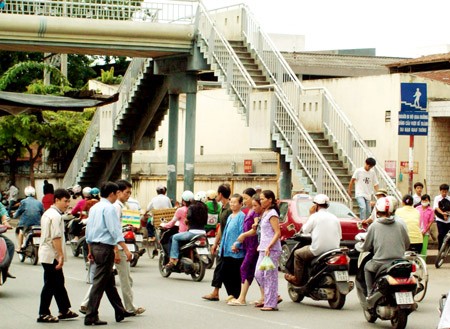 One of pedestrian flyovers in Ho Chi Minh City (Photo: SGGP)
The city is looking to invest into building a flyover on Dien Bien Phu Road in District 3 in front of the Binh Dan Hospital and a flyover or walkway in front of Economic Law University in Linh Xuan Commune in Thu Duc District, according to the Economic Budgetary Committee of the People's Council.
The total cost of these infrastructure upgrades will be VND120 billion (US$5.7 million) from now until 2015.
The city currently has six pedestrian flyovers including one in front of Tu Du Maternity Hospital in Cong Quynh Street in District 1, Nguyen Trai Street in District 5, Phan Thuc Duyen Street in Phu Nhuan District, No Trang Long Street in Binh Thanh District, Dien Bien Phu in Binh Thanh District, and one in front of Suoi Tien Park in Thu Duc District.
There is also one on Highway 1A in front of Linh Trung Export Processing Zone in Thu Duc District and one on Highway 1 in Binh Chanh District.