Authorized agencies have applied a lot of solutions to deal with traffic jam. However these solutions should be implemented comprehensively and synchronously with high determination from all-level agencies.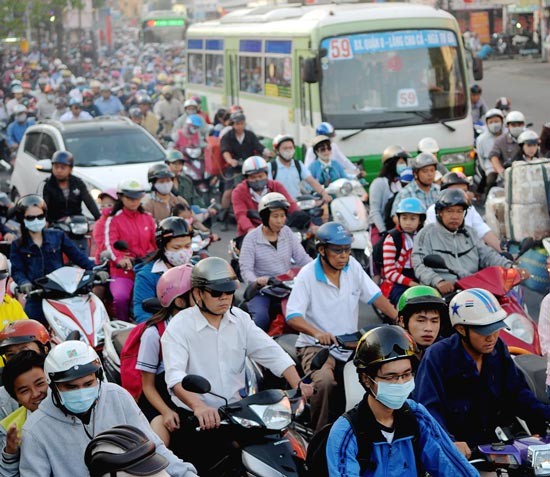 Traffic jam in HCMC (Photo: SGGP)
Sai Gon Giai Phong Newspaper introduced opinions of three main agencies responsible for the issue.
Director of the HCMC Department of Planning and Architecture Tran Chi Dung said that traffic infrastructure should be built first while implementing urban construction plans. However, it requires a huge capital and takes long time therefore it has to run behind building of houses, skyscrapers, and apartment blocks.
HCMC has several new residential areas but only Phu My Hung has completed systems of traffic, water supply and drainage, housing, office buildings and other social infrastructures such as hospitals and schools.
The Ministry of Construction has released a circular guiding urban construction planning basing on the balance of capital source and social demand. Construction management agencies and investors will rely on this plan to carry out investment projects. HCMC is studying the circular's implementation.
The plan's synchronous conduction will be a key footing for solving traffic congestion problem, Mr. Dung added.
Deputy Director of the city Department of Transport Tran Quang Lam said that annually the state budget for traffic infrastructure development meets only 30 percent of demand. Meantime the number of vehicles has rapidly increased.
Newly registered vehicles last year went up 8.6 percent over 2013, not including those being registered in other provinces and cities.
Land area ratio for traffic is far behind demand. The department is trying to extend the rate to 8.2 percent this year while international standard is over 20 percent.
The department has tasked four urban traffic management zones to regularly review and adjust traffic flows along streets, especially where with new traffic jam spots or works being opened for traffic, and keep continuous supervision afterwards to estimate the effectiveness of traffic segregation.
However the biggest challenge is overloaded condition due to population pressures. Housing and office projects have been built before investors ask the department about traffic structuring, causing difficulties for it in regulating vehicular traffic.
Deputy Head of the city Traffic Safety Committee Nguyen Ngoc Tuong said that the department has worked with other organizations and agencies to help create walking habit for residents especially students. This aims to encourage people to use public transport means.
Besides, public transport system quality has also been improved to limit private vehicles. Local authorities in wards and districts should be responsible for making pavements clear to ensure safety for pedestrians, he said.
HCMC will study the organization of free parking lots at the city's entrance gateways to limit the number of residents from suburbs and neighboring provinces driving into the city's center.

Related articles:
Experts identify reasons for HCMC traffic jam
HCMC faces traffic challenges