Ho Chi Minh City is to invest VND15,300 billion (around US$956 million) in 1,702 infrastructure projects next year, according to a resolution just signed by the Chairwoman of the HCMC People's Council, Pham Phuong Thao.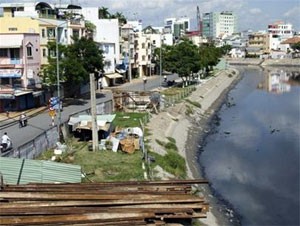 HCMC plans to build an elevated road along the Nhieu Loc-Thi Nghe canal
The city is to spend VND3.7 trillion (US$236 million) of its budget, the rest will be mobilized from various sources.
Some 164 of the 1,702 are new projects, including notably, two subway routes (Ben Thanh –Tham Luong and Ben Thanh – Mien Tay Bus Station) and a VND10 trillion (US$625 million) elevated road along the Nhieu Loc - Thi Nghe canal.
The city also aims to finish an overall plan to manage and renovate its water supply systems in 2008.
During the year's last session of the HCMC People's Council, concluded December 7, city Chairman Le Hoang Quan said that to reduce urban congestion and improve traffic systems, the city has already begun investing in major infrastructure projects.
Further, warned Quan, "The city will file law suits against any management board or contractor if they miss deadlines or seriously affect peoples' lives."