Ho Chi Minh City will kick off many important traffic projects in 2012, such as the Saigon-2 Bridge, the Thu Thiem-2 Bridge and the Thu Duc intersection.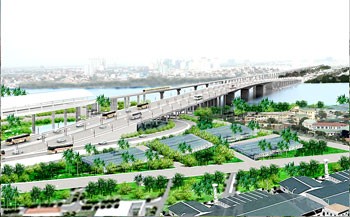 Design of Saigon-2 Bridge
The Saigon-2 Bridge will be similar in design to the existing Saigon Bridge and will be constructed parallel to the existing bridge.
The distance between the two bridges will be about 27 metres. The four-lane, 23.5 metre bridge will be 995 metres in length and will connect Binh Thanh District with District 2. Its estimated lifespan is said to be for 100 years.
The project, at a total cost of VND1,500 billion (US$681million) is invested in the BT or investment and transfer format. The construction will begin in the first quarter of 2012 and be complete by mid 2014.
The Thu Thiem-2 Bridge will be located along Ton Duc Thang Street, over Ba Son Shipbuilding Factory area in District 1 and over the Saigon River, connecting with Thu Thiem new urban area in District 2. The four-lane bridge will be constructed at an estimated cost of VND1,200 billion.
Thu Duc intersection at the eastern gate of HCMC will be extended 34 metres and will include two parallel lines, 81 metres in length with an underground shelter and a 376 metre long flyover. The total project investment cost will be VND1, 499 billion.
The construction of Binh Tien Bridge at the western gateway of the city is expected to reduce traffic congestion on Nguyen Tri Phuong Road and National Road 50 heading towards National Road 1A in Long An Province.
In the East-North area of the city, the construction of Ha Huy Giap parallel road will reduce traffic from Binh Duong Province to Ho Chi Minh City via National Road 13 and Binh Trieu Bridge.
In addition, the project of Nam Ly Bridge and the upgrade of Nguyen Duy Trinh road will also kick off in 2012.