The management board of the Ho Chi Minh City-Long Thanh-Dau Giay highway project announced on January 31 that the highway is expected to be in operation by the end of 2013, nearly two years after start of construction.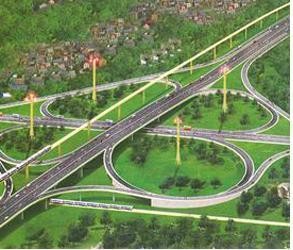 Model of the HCMC - Long Thanh - Dau Giay Highway
The board stated this at a meeting called to speed up the project work, which was attended by representatives from the Ministry of Transport, Vietnam Highway Investment and Development Corporation, HCMC People's Committee and the Dong Nai Province People's Committee.
Speaking at the meeting, Le Hoang Quan, Chairman of the HCMC People's Committee, said that the highway project will help boost socio-economic development in key southern provinces and connect the national traffic network.
The total length of the highway will be 51km and designed in accordance with Class A expressway standards, having four lanes.
Across the entire route there will be 14 bridges in total, of which there will be one very large scale bridge-the Long Thanh Bridge-spanning 1,721.4m in length, eight large scale bridges and five medium scale bridges, including a viaduct. There will also be four intersections, and 12 flyovers and overpasses.