The People's Committee of Binh Tan District in HCMC yesterday launched level 3 online public service, making it the first district in the city to implement the service in fields covering economics, civil status and construction.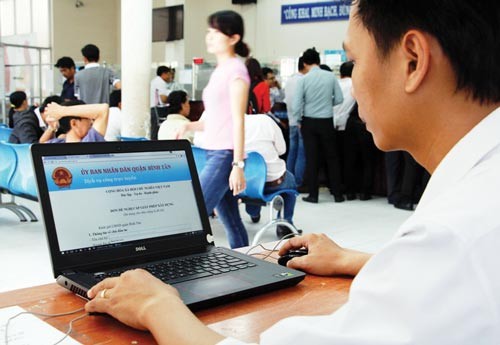 The official handling information online (Photo: SGGP)
Citizens doing procedures related to the above fields just need to use the email available on the district's website to send necessary information.
Officials in charge of the fields at the district's departments will give online feedbacks to citizens.
On the first day, a lot of individuals and organizations used the service to apply for construction licenses and business registration certificates, report labor reduction and register payrolls. Many of them were conducted successfully within the day.
Citizens can learn more about the service at the district's headquarters or website.
According to Vietnamnews, there are four levels of public service registration.
Level 1: Procedures to fill in the required forms and information about time and service cost are available on-line.
Level 2: The service allows the user to download the required forms to be printed out and filled in later.
Level 3: The applicant can fill in and submit the forms on-line.
Level 4: Service payments can be settled on-line. Transaction results are available either on-line or by post, upon request.