State-owned Cuu Long Corporation for Management, Investment and Development of Traffic Infrastructure will begin collecting toll fees on vehicles travelling on the Ho Chi Minh City-Trung Luong Expressway from 8 am Saturday.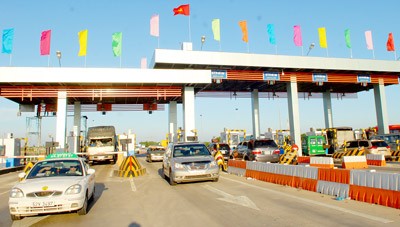 HCMC-Trung Luong Expressway will charge toll fee from February 25 (Photo: SGGP)
The HCMC-Trung Luong Expressway linking HCMC to the Mekong delta provinces of Long An and Tien Giang was opened to traffic at the beginning of February 2010.
When a driver enters the expressway, he will receive a card, which will be presented at the toll booth at the end of the road. Computerised receipts will determine the number of kilometres travelled and charge accordingly.
Toll fee will be calculated as per vehicular capacity, regardless of its cargo.
The 40 kilometre expressway has two main toll stations, one at the beginning of the route at Dem Market in HCMC and the other at the end of the road in Tan Cuu Nghia Street in Tien Giang Province.
Besides, there are two other stations in Ben Luc District and Tan An town of Long An Province.
All vehicles plying on the expressway will have to pay toll, except public service vehicles like ambulances and fire trucks.
Duong Tuan Minh, director general of the Cuu Long Company said that truck drivers might avoid paying fees by travelling on Highway 1A instead of on the expressway. However it is more profitable to travel on the expressway.
According to him, travelling on Highway 1A is longer by 11 km than on HCMC-Trung Luong Expressway. It takes 30 minutes to ply the expressway, but up to 60 minutes on the highway.
Besides, if several trucks travel on Highway 1A, it might cause traffic congestion and quickly downgrade the road.
Over the last two years, the numbers of vehicles using Highway 1A are 6,000-7,000 a day compared to 32,000-35,000 on the expressway.
Although the HCMC-Trung Luong Expressway has been open to traffic for only two years, the road surface has eroded and potholes occur along several sections of the route.
Mr. Minh said that 70 per cent of the damaged spots have been repaired while the remaining will be completed by April.