City health officials are said to be lagging their schedule for granting certificates of food safety and hygiene to local food-processing and distribution businesses. Only some 30 percent, 7,595 of 24,383, had been certified by November 15, claimed a report from the Food Hygiene and Safety Bureau.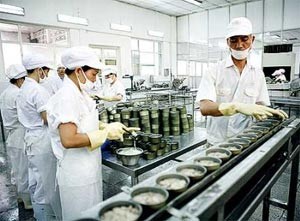 Workers at a food processing factory
HCMC Health Department Deputy Director Le Truong Giang has ordered all relevant officials to expedite inspection and certification of food businesses selling high-risk products, those with high threats of infiltration by biological or chemical agents which may affect consumers' health before December 31.

A food safety and hygiene inspection was conducted yesterday at An Lac Trade and Supermarket Service's "Big C" Supermarket as part of the first phase of the city's preparations for the upcoming lunar new year (Tet) holidays.

According to the inspectors, a random check on ten products revealed their labels met standards but the information they contained, including the products' nutritional ingredients and weights, was incorrect.

Moreover, the supermarket's records on quarantined poultry and beef were not fully updated and temperatures in poultry freezers did not meet requirements.

Seventeen other products of dubious quality and unknown origin were also discovered.