One thousand of southern heroes met together and exchanged at the Ho Chi Minh City's Opera House Monday night, a part of the program "Thang Long-the country's holy soul" organized to take the delegation to Hanoi for the coming millenium anniversary of th capital city.
The program has been co-organized by the Vietnam Veterans Association and Mai Linh Group.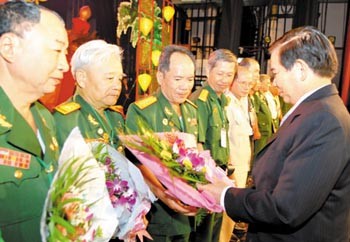 President Nguyen Minh Triet (black suit) gives flowers to war veterans at the HCMC's Opera House September 27 (Photo: SGGP)
Attending the venue were President Nguyen Minh Triet, the city's top leaders and 1000 Vietnamese heroic mothers and heroes of the Vietnamese People's Army Forces and Labor.
Despite of old age and weakness, Vietnamese heroic mothers, from the Mekong Delta provinces like Bac Lieu, Vinh Long and Dong Thap, said they were so happy and would try to pass the thousands kilometers journey to visit the ancestral land.
Most of mothers who have been rewarded the Title "Heroic Mother" are at the age of seventy and more but all still tried to attend the journey because many of them not yet visit the capital city.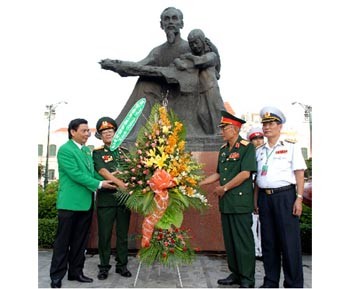 Delegates are in front of the Ho Chi Minh's statue in the same name city's district 1 before departing for Hanoi on September 28 (Photo: SGGP)
Speaking at the meeting, President Nguyen Minh Triet said the "Thang Long-the country's holy soul" was a meaningful program to commemorate the heroes who had devoted their life for the country.
The President wished health to Vietnamese heroic mothers and delegates so that they could fully attend the journey to attend the millenium anniversary.
Meanwhile, heroes of the country's reformation period like Nguyen Dinh Truong and Ly Hoa shared memories on difficulties the country faced in the war time and aftermath.
The delegation of 1,000 heroes then attended a flower offering ceremony in front of the Ho Chi Minh statue in the city's District 1 on Tuesday morning before departing for Hanoi.
Along the journey, they stop at provinces and cities of Gia Lai, Da Nang, Phu Tho and then Hanoi to meet with people there. They will also join a requiem and visit Road No.9 martyrs' cemetery in the northern central province of Quang Tri.