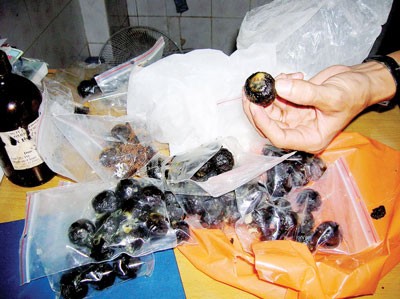 Herbal medicines without clear indications of origin sold at a clinic in Binh Thanh District ( Photo: SGGP)
Concerns have been raised about the large number of private clinics in Ho Chi Minh City – some 13,000 – and whether their practitioners are properly qualified and registered.
Some physicians operating out of private medical rooms both prescribe and sell herbs. But some herbalists appear to be exaggerating their capabilities and even bestowing certificates on foreigners who later work as herbalists in their home countries.
Although the Ho Chi Minh City Department of Health (DoH) granted N.A.Tu a certificate to practice as a herb doctor in his locality in District 6, he opened a private medical clinic in Hy Long Street in District 2. N.A.Tu claims he can treat some incurable diseases and prescribe herbs to cure stomach cancer.
Under Vietnamese regulations, individuals granted certificate of practice can open a private herb clinic. However, some herbalists "rent out" their certificate to others to practice at their clinics.
Herbalist L.H.Than, a self-taught healer from a province in the central Vietnam, was hired to work at Bao Minh Chau herb clinic in District 6, run by DoH-approved doctor N.T.H. With his "rented" DoH approval, Mr. Than advertises his ability to cure various cancers.
Another example is the An Hue Dental Clinic, also known by its foreign name Keiyukai Sai Gon Dental Clinic Implant Center, which began operating a month ago at R4-45 Hung Phuoc 4 in Phu My Hung in District 7.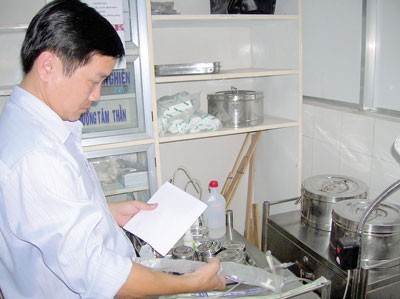 A health inspector supervises a private herb clinic in Binh Thanh District (Photo :SGGP)
The founder of the dental center is Ms. Yuko Nakajima and the director is Nguyen Hoanh Duc, who was granted a certificate of practice. But Japanese doctors, who have not been granted any certificate to practice in Vietnam, have been treating patients at the dental center, a DoH inspection found in November.
Yet another example of the use of a "hired" degree is a general surgery in Nguyen Xi Street in Binh Thanh District. It was found to have set up two treatment rooms and another room for physiotherapy exercise using a rented DoH certificate.
Dr. Dang Van Quy, who heads DoH's managing division, said unscheduled checks should be conducted to clinics to ensure medical practitioners were properly qualified. Dr. Quy said some district health departments don't properly supervise medical clinics.