Ho Chi Minh City attracted new foreign direct investment (FDI) pledges of nearly US$8.5 billion in 2008, four times more than in the previous year, the city's Planning and Investment Department said.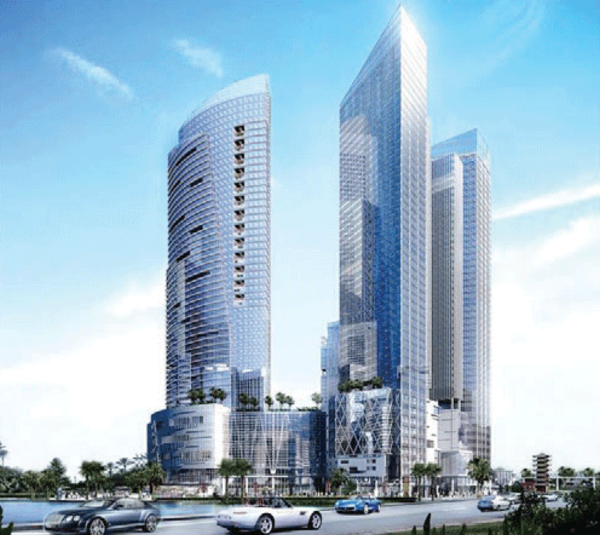 An artist's impression of the proposed Vietnam Financial Centre in Ho Chi Minh City.
This year, $8.2 billion in FDI was promised to new projects in HCMC and $242.5 million allocated to 134 projects already underway.
Of the total FDI pledged, $7.83 billion will be directed to 405 newly licensed projects and the remainder to 110 existing projects, city's Statistics Department reported this week.
Real estate remained the biggest FDI recipient during the January-September period, followed by IT, finance and industry.
Projects of note included a $3.5 billion project funded by Malaysia's Berjaya Land Bhd Corporation to develop urban centers and universities, the $1.2 billion Thu Thiem software park and the $930 million Vietnam Financial Centre in District 10.
These achievements are attributed to HCM City's efficient implementation of policies to curb inflation, promote economic development and speed up administrative reform regarding licensing procedures and project site clearance, an official from the Planning and Investment Department said.
The foreign-invested sector led other economic sectors in terms of industrial production, posting a growth rate of 19 percent compared with 4 percent posted by the state sector and 11.2 percent by the non-state area.
HCM City attracted record FDI in 2008 after the municipal government improved the investment and business environment, created advantage conditions to investors join in high technology sectors and applied investment laws in a consistent manner.
Investment-preferential policies are believed to have encouraged investors to pour money into major technical infrastructure projects - including water plants and water supply networks - social infrastructure projects, non-state educational, health care and sport establishments.

In addition, Prime Minister Nguyen Tan Dung has also asked the Ministry of Finance to review its disbursement procedures and mechanisms. He demanded the ministry find ways to speed up the process of capital disbursement for major projects and construction work.

An official from the HCM City Planning and Investment Office said because of strong investment in infrastructure over the past two years, FDI projects would be disbursed more effectively in the future.