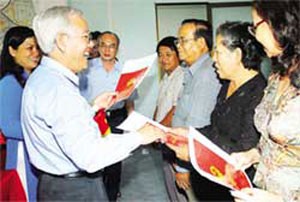 Mr. Le Hoang Quan (L) gives house certificates to residents in District 9.
Ho Chi Minh City will continue to accelerate administrative reform in 2007 by simplifying administrative procedures in all sectors and localities to comply with Viet Nam's commitments to the World Trade Organization (WTO), said a senior municipal official.
Mr. Le Hoang Quan, Chairman of the Ho Chi Minh City People's Committee, told a SGGP reporter that in 2007 (the year chosen for administrative reform), HCMC will ask the departments, sectors and People's Committees in its various districts to work out concrete plans on administrative reform.
According to Mr. Quan, the city's Department of Natural Resources and Environment, Department of Planning and Investment and Taxation Department have successfully coordinated with each other to install a one-stop administration mechanism for the land and housing sector. As a result, it now takes investors only 20-40 days instead of 1-2 years to complete the necessary procedures for obtaining an investment license to rent land for investment projects in the city.
Mr. Quan said the city's authorities will choose some major projects such as the Saigon high-tech park and the new Thu Thiem suburb as pilot projects for the new public administration management model. The city will also work with other relevant agencies to advise the central government on a proper course of action regarding both the consolidation of necessary documentation and the elimination of unnecessary paperwork. Another priority for the city's People's Committee is to carry out regular reviews of administrative procedures in order to make simplifications to the system when possible.
As many as 21 out of the 23 State departments in Ho Chi Minh City have registered to apply the one-stop administration mechanism whereby individuals or organizations wishing to apply for a specific license no longer have to make several applications at different departments. The new mechanism, regarded highly by local citizens, is now operational in 317 wards, communes and towns of Ho Chi Minh City.