Voters raised concerns about a corruption case involving the Ho Chi Minh City East-West Highway and Water Environment Project at a meeting with the city People's Council members in District 5 on Wednesday.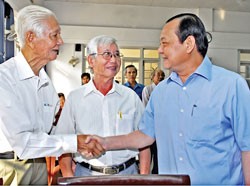 Mr. Le Thanh Hai shakes hands with voters in District 5 at the meeting on Dec. 10, 2008. (Photo; Viet Dung/SGGP)
People's Council members were asked to explain the case and their responsibility in the matter.
Voter Tran Hong Diep asked why the city had only promised to indict people in the case if it found evidence of wrongdoing, while in Japan court proceedings were already underway. Japanese authorities have charged a number of executives from the Tokyo-based Pacific Consultants International accused of bribing the project's Vietnamese leader.
Addressing the concerns, city's party chief Le Thanh Hai said the city was determined to fight corruption.
"The Police of Investigation of the Ministry of Public Security has launched a far-ranging investigation of the case. The city has asked individuals involved in the case to report their work and the city has also suspended the project leader. The city is closely coordinating with investigators," the city party chief told the meeting.
At the meeting, voters also raised concerns over environmental pollution, high petrol prices, roadworks that cause traffic congestion and subsidies for urban area executives.
Mr. Le Thanh Hai asked district authorities to help the district's poor, train young cadres and ensure the coming Tet holiday was safe and government funds for the holiday were spent economically.