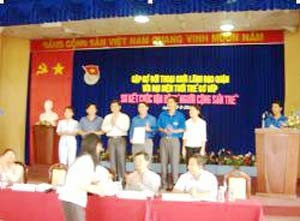 Young cadres in Dist.3 are highly praised for their contribution to the community's development. (Photo:TK)
The Ho Chi Minh City Party's Committee yesterday held a meeting to summarize its process as well as set up new targets in appointing young officials to important posts for the city's administration works.
To 2010, the city plans to employ around 750 young officials and exemplary students, most of whom are under 30, to carry out the administrative works. Of the number, there will be 100 young people coming from the worker class, 40% female, 30% having a BA degree in politics and 70% holding chief clerk and Deputy chief clerk posts at the district level.
Addressing the summation meeting on the scheme, Ho Chi Minh City Deputy Secretary of the city's party committee Nguyen Van Dua highly praised the young officials's contribution to the city's socio-economic development.
He also urged relevant units to promptly select and recommend young people, especially those who are under 30, to undertake the key posts at under-city administration levels, aiming at preparing potential staffs who can be candidates in the elections to the city's Party Committee high posts and the Deputy Chairman of the city's People's Committee next term.
Currently, of the 549 young officials and exemplary students in the long-term planning program of Ho Chi Minh City, 233 people have been assigned to work at administrative offices at ward and commune levels.