Ho Chi Minh City is often called "the country's economic locomotive", "vanguard in economic progress" but yet even the nation's "economic hub" has not met expectations in terms of economic restructuring, infrastructure development and administrative reforms, said Prime Minister Nguyen Tan Dung yesterday at the meeting between central government and city leaders.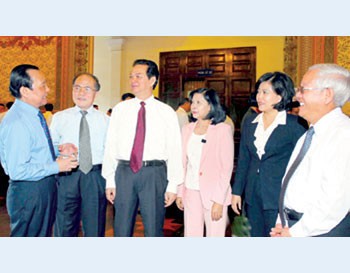 PM Nguyen Tan Dung (3, L) talks with city leaders on the sideline of the meeting.
During a meeting with city leaders, PM Dung said he wondered whether or not there were any truly professional investors in the city's booming real-estate and stock markets or they were all just day traders.
Administrative reforms have not met expectations, red tape still strangles paperwork related to real estate, he added.
The city is lacking hotels, Dung said, but in order to be issued a license to build a hotel, enterprises face extreme difficulties in registration, not to mention complex urban plans. And he called on the city to boldly purge overlapping legal documents.
According to First Deputy Prime Minister Nguyen Sinh Hung, the city has not fully exploited its potential and he called for further development by 2010 five key markets: stocks, technology, real estate, commodities and labor.
As for land management, Minister of Natural Resources and Environment Pham Khoi Nguyen said the city has ignored issuing land-use certificates [land titles] and only paying attention to land acquisition and site clearance.
HCMC now has 53 projects which have come to a standstill, all told covering 3,000ha, all of which is being wasted, said Nguyen. He urged idle land be quickly transferred to competent investors for feasible projects.
The city's Communist Party Chief Le Thanh Hai complained at the meeting that although HCMC's growth is impressive, it lacks sustainability.
"Despite being called a modern, civilized city, it has constant traffic jams, floods and environmental pollution, degrading people's quality of life and eroding the investment climate", Hai said.
Minister of Transport Ho Nghia Dung attributed traffic jams to HCMC's shortage of land. Only 1.7 percent of city land is devoted to traffic flows while the world average figure is 16-20 percent.
Vice PM Hung told city leaders to consider local infrastructure improvement a "primary political objective".
From now to 2010, HCMC needs to implement over 100 infrastructure projects worth some $10 billion, PM Dung said.
"For several years I have heard repeatedly of many infrastructure projects [in progress], subways, highways, and so on, but none are finished yet. We seem to be always discussing them only on paper", the PM lamented.
He called for an ambitious new urban development plan, adding it should serve as a crucial thrust for the overall national economy. He asked local leaders to raise their growth projections for next year from between 12.7 to 13 percent to 13.5 per cent.
He also called on the city to beef up the fight against corruption and wastefulness and improve the city's education and training quality.
According to a report by the city People's Committee, HCMC's growth reached a 10-year peak this year at 12.6 percent and poverty has fallen to 1.8 percent.
As for next year, the administration plans to achieve an average annual per capita income of US$2,500, a 15 percent rise in exports and create 270,000 new jobs.
HCMC generates around 20 percent of the nation's overall GDP.