The National Assembly (NA) Standing Committee has assigned Ho Chi Minh City to elect 95 deputies to the municipal People's Council for the 2011-2016 term and 30 deputies for the 13th NA.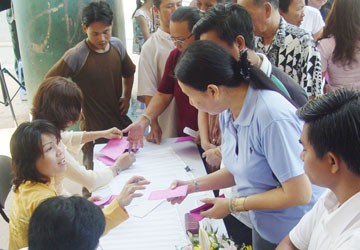 (File) Voters poll for National Assembly deputies for the 12th term
Dang Cong Luan, director of the HCMC Department of Internal Affairs spoke at a conference on February 17 that as per the Politburo's instructions, the city will try to have more than 15 percent of the People's Council deputies to be under 35 years of age, about 30 percent of deputies to be females and 10 percent of deputies to be non-Party members.
 
Nguyen Van Dua, deputy secretary of the city's Party Committee and deputy head of the Election Steering Board, laid out the plans of the election board, the qualifying standards of candidates and process of selecting and introducing candidates.
 
On the same day, the city's Fatherland Front Committee also organized a training session for elections for Fatherland Front committees at all levels.