Ho Chi Minh City had a good start for 2015 with strong and stable growth in January, heard a regular meeting on January 23 of the municipal People's Committee.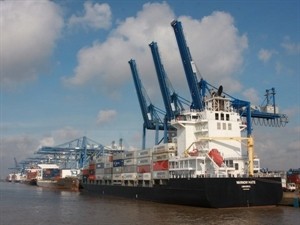 Export, Import goods at Cai Lai Port, Ho Chi Minh City (Photo: VNA)
As of January 20, the city attracted US$363.8 million in foreign direct investment (FDI), which was poured in 23 new and 8 underway projects. The capital amount was 15 times higher than the same time last year's figure, said Thai Van Re, Director of the municipal Department of Planning and Investment.
Domestic investment also saw positive signs, with over VND14.3 trillion (US$672.1 million) invested in local enterprises, he noted.
During the month, 1,386 new firms was licensed with a total registered capital of over VND5.6 trillion (US$263.2 million) and 2,391 local enterprises poured a combined additional VND8.7 trillion (US$498.9 million) into their business.
Le Hoang Quan, Chairman of the municipal People's Committee commented that the surge in January's FDI showed that investors were confident of the city's investment environment.
In 2015, Ho Chi Minh City will strive to attract more FDI capital than last year's US$3.2 billion, he said, adding that this will pave the way for the city to fulfill its plan for the next five years.
At the same time, industrial growth in January was impressive with a 9.2 percent rise year on year, said Re, adding that an approximate 10 percent increase were seen in all four major industrial sectors of manufacturing and mechanics, electronics, chemicals-rubber-plastics, and food processing.
In February, as part of efforts to prepare for the upcoming Lunar New Year (Tet), the city will roll out a number of measures to ensure goods supply and price stability during the holiday, which will last from January 15-23.
Local enterprises have stocked VND15.84 trillion (US$744.48 million) worth of goods, with the goal of keeping prices stable on the occasion.
Director of the Finance Department Dao Thi Huong Lan said the city will spend about VND600 billion (US$28.2 million) to help disadvantaged people celebrate a warm Tet holiday.
In order to maintain the stable growth, Chairman Quan asked all departments and agencies to continue removing difficulties for businesses in an effective and timely manner, while strengthening control over prices and ensuring goods supply during Tet holiday.