Ho Chi Minh City plans to reduce traffic accidents by at least 20%, cut the number of traffic bottle necks by 20% and put an end to over-30-minute-long traffic jams.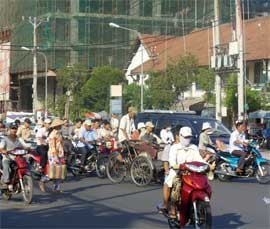 Ho Chi Minh City witnesses more trafic jams when the number of transports is increasing.(Photo:T.K)
The city recently started to build a bus manufacturing factory, aiming at producing enough buses for the public transport to lure its people to use the service.Also, the city is working with the World Bank on financial assistance to construct the priority lanes for buses and instructing its various levels to restore traffic safety and order.
SGGP reporter has a chance to interview the city People's Committee Vice Chairman Nguyen Van Dua about these decisions.
SGGP Reporter: The Committee for Traffic Safety of Ho Chi Minh City recently announced some more roads where riders are compelled to wear helmets and set its target to have 100% of motor riders wear the protective gear on these roads. Can we achieve the target when the number of motor riders with helmets is in decline on our listed roads for helmet rule?

Mr. Nguyen Van Dua: Authorities must consider very carefully before introducing new road sections enforcing helmet rule. Also, they must take the responsibility for finding out the feasible solution for the rule enforcement. Besides, citizens who drive motorbikes should have self-awareness to wear helmets for their own safety.
SGGP Reporter: Many people are worried about the restructuring of 100% sidewalk , as planned, of over-8-meter- wide roads in Ho Chi Minh City because for a long while the sidewalks of some roads have been occupied by small businesses or vendors. What do you think about this?

Mr. Nguyen Van Dua: The city has assigned its lower administrative levels to follow up the rule enforcement on sidewalk with some degree of flexibility. Local authorities can establish forces to ensure the enforcement. Besides, the city has also urged many organizations, unions…to encourage people to follow the new regulations of urban restructuring.
SGGP Reporter: Thank you very much.