The first ever Holland Days in Ho Chi Minh City will feature economic, cultural and educational activities this Saturday and Sunday, the Consulate General of the Netherlands has announced.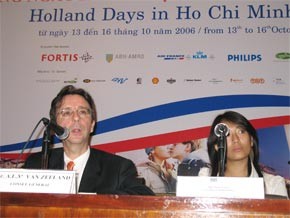 Mr. Zeeland at the Wednesday press briefing (Photo: Tuong Thuy)
"It is an event on the occasion of 33 years of Dutch contact with Viet Nam," Dutch Consul General Ton van Zeeland told a Wednesday press conference.
"This event has to make the Netherlands better known among the Vietnamese people. The different activities will give a complete view of the Netherlands," he added.
The first activity will be a photo exhibition opening on Saturday morning and lasting until October 16.
"The photos show Holland and her beauty," Mr. van Zeeland said.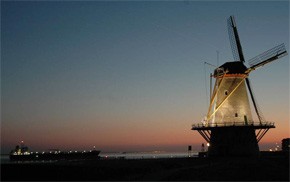 One of the photos to be displayed (Photo: Netherlands' Consulate General)
They can be spotted in Chi Lang Park on Dong Khoi Street and at the General Sciences Library on Ly Tu Trong Street, where the Dutch Consulate General will donate fabric for preserving old books on October 18.
Also on Saturday there will be a matchmaking business meeting at the Park Hyatt where Dutch and Vietnamese companies will discuss possible tie-ups in water, energy, agriculture, maritime trade, infrastructure and the environment in Viet Nam.
After the meeting the "MBA contest" will start, also at the hotel, for students wanting to know if their business skills are up to scratch. The top six students from each of five universities will compete, coordinated by Vietnamese people who have studied in Holland.
The first day's program will close with a modern dance performance at the Opera House.
Mr. Zeeland said his office had cooperated for more than one and a half years with the Ho Chi Minh City Ballet and Symphony Orchestra and the city's dance school in training dancers and teachers.
"This performance could be regarded as a milestone in this partnership," he said.
Free tickets for the performance can be collected at the Dutch Consulate General, HBSO office or the Foreign Services Center.
Three Dutch movies – Minoes, Sweet from Holland, and In Orange – will be screened at the Institute for Cultural Exchanges with France, or IDECAF, on Sunday.
'In Orange' tells the story of a talented young soccer player (orange is the color of the Dutch team). Mr. Zeeland said the story was based on the early lives of the famous Dutch players Marco van Basten and Johan Cruijff.