A number of dubious activities have recently been discovered at District 9's Tang Nhon Phu A Ward where many of the professed "poor people" have taken advantage of the local authority's policy of granting houses to the poor to open house rental services right at the property granted to them or even sold them for profits.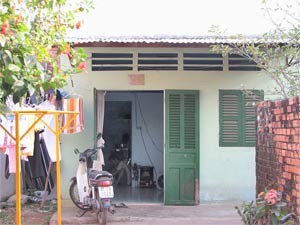 A house granted by local authorities to a poor woman is now for rent  
Recently, La Thi Ly, one of the people who received housing from the local officials, has offered the house for rent and moved to the city center to live with her daughter. Huynh Thi Tien and Do Thi Ruong were also among other house recipients who sold their granted property for VND280 million (about US$17,241) and VND700 million or US$43,103.

Other stories of people selling their houses for considerable profits are characteristic of the ward, despite the fact that the houses were given to them as a donation to help ease their poor circumstances.

In talks with Sai Gon Giai Phong reporter, Chairman of the ward's Father Front Committee, Ho Van Suu said many local residents are still in need of a decent house and that's why local authorities could not end their plan of granting houses for the poor.

On this topic, Chairman Suu commented that according to the law, the authorities have no right to interfere with what the people do with their own property. Moreover, only one case of a recipient selling their house has been discovered so far and local officials have withdrawn VND5 million or US$307 from the home owner and donated it to the fund for poor people.

It was also added that the authorities' decision on house granting is based on reports and evidences including photos of houses provided by local officials. However, some of the recipients are not as poor as they seem.

According to Mr. Nguyen Viet Dung, General Secretary of the ward's party committee, quite a few people have made themselves seem poor to others in order to have their names in the list of house recipients. They would then sell the house, moving to another area and once again repeat the same script, he added.

Over the last few years, Tang Nhon Phu A ward has taken the leading position in building houses for the poor and helping repair houses for local residents in District 9. Since 2003, about 25 houses have been built with a total budget of VND200 million (about US$12,300).

However, with such dubious activities going on in the area, their efforts to help poor people have been taken advantage of.