The discovery of the unlicensed construction of the "White Palace" complex built on military land in Ho Chi Minh led the city's Vice Mayor to assert yesterday that authorities will deal penalties to all those violating urban building codes, with no exceptions.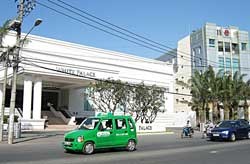 The White Palace at 194 Hoang Van Thu Street
City People's Committee Deputy Vice Chairman Nguyen Huu Tin told Nguoi Lao Dong the two-floor structure at 194 Hoang Van Thu street, Phu Nhuan district, next to a National Assembly Office building, "will enjoy no leniency in penalization".
The imposing structure was built on a 7,382 sq.m land plot run by the military and opened December 1. But as early as May, inspectors discovered it had no construction permit.
Tin added the owner and the contractor will "receive serious administrative penalties" and be banned from construction projects for a certain period.
Indirectly, he was referring to the Tay Nam Import-Export Trading Company which leased the plot to the Nam Bac Hospitality Company. The latter in turn hired contractor Tan Ky Construction Service Co., Ltd.
In the next several days, city government will hold a meeting to decide the White Palace's fate.
Municipal Department of Construction Director Nguyen Minh Dung said the building is on military land and thus very difficult to regulate. The project was approved by authorities under the Ministry of Defense.
According to city Deputy Chief Inspector Duong Ngoc Thanh, though the White Palace is on military land, its usage is civil and commercial [it was built for lease to weddings and conventions] and therefore must obey general construction regulations.
Ironically, while a construction permit has yet to be issued, the building has been licensed to conduct business. The construction department is now considering suspending the White Palace from such operations.
Related story: Opacity Surrounds New White Palace Complex on Military Land