Contractors will remain digging through out next year, a total of 56.7km of roads in Ho Chi Minh City will be worked on, up 14 percent on this year.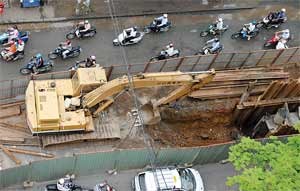 Digging work on Xo Viet Nghe Tinh street in HCM City (Photo: SGGP)
Much of the construction is due to three urban projects, East-West Highway, Nhieu Loc-Thi Nghe Canal and water supply projects which have been under construction since 2008.  
In 2008, contractors finished 49.6km of streets, about 43 percent of the total distance of projects under construction.  
Streets that are being worked on: Truong Chinh, Tan Hai, Ly Thuong Kiet, Nguyen Trong Tuyen and Pham Van Hai in Tan Binh district, Tran Quang Dieu, Dien Bien Phu, Tran Quoc Thao and Ly Chinh Thang in district 3, Nguyen Kiem and Le Quang Dinh in Go Vap district, and Phan Dang Luu and Dinh Tien Hoang in Binh Thanh district.  
Among the 56.7km of roadworks in 2009, the Management Board of HCM City Environmental Hygiene Project will be responsible for 37.5km, including 9.6km of streets along the Nhieu Loc-Thi Nghe canal, 6.8km of Nam Ky Khoi Nghia, Tran Khanh Du and Tran Quy Khoach streets in district 3 and others.  
The Management Board of East-West project and Water Environment will be in charge of 6km, including Su Van Hanh, Tran Binh Trong and Thuan Kieu streets. The Management Board of Urban Upgrade projects will take care of 13.2km. 
In 2010, contractors will have 9.626km of roads left to work on.