The ASEAN North East India Investment & Trade Opportunities Summit continued to present new investment opportunities in the northeast India February 13, at the White Palace Hotel.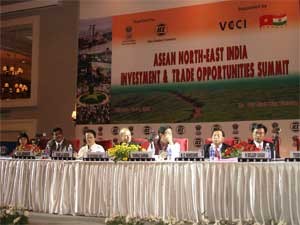 Speakers at the tourism session (Photo: Truong Son)
This is one of three activities over February 12-14. The program is co-organized by the Ministry of Development of North East Region and the Indian Chamber of Commerce, sponsored by the Consulate General of India, Vietnam Chamber of Commerce and Industry, and the Indian Chamber of Commerce in Vietnam. 
On Day 1, the conference welcomed various Indian officials, like Dr. Rajeeve Singh, Secretary General of the Indian Chamber of Commerce, Mr Shri Lal T Muana, Indian Ambassador to Vietnam, Shri Conrad K. Sangma, Minister for Tourism, government of Meghalaya and Shri Lalrinliana Sailo, Minister for Tourism, government of Mizoram.  
A multimedia presentation, 'Unlimited Opportunities,' was shown straight after the inauguration of the summit and followed by an exhibition of products from the northeast of India in the afternoon. 
On day 2, February 13, the conference welcomed a special address by Dr. M. Govinda Rao, director of the National Institute of Public Finance and Policy and member of the Economic Advisory Council to the Prime Minister.  
The morning's first session talked about the tourism vision of northeast India until 2020 and was chaired by Shri Conrad K.Sangma. The second session concerned infrastructure in the region and was chaired by Shri Lalrinliana Sailo.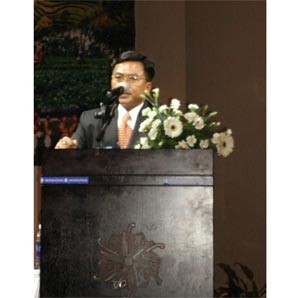 Shri H.Deleep Signh, Director of Tourism, Govt. of Manipur delivers a speech (Photo: Truong Son)
The final morning session focused on topics like agriculture, food processing and handlooms (Indian handicrafts) led by Shri Somnath Poudyal, Minister of Agriculture, govt. of Sikkim. 
The afternoon followed with a session on the Cambodia-Lao-Vietnam Development Triangle and northeast India led by Jarnail Signh.
February 14 will begin with a session on 'South East Asia Regional Integration – Building International Partnerships.'
Late morning will close the three day seminar, with a special one-to-one meeting between participants and delegates.  
The exhibition will be finish at 1.30pm.