Following the discovery of the unlicensed construction of the White Palace complex on military land in Ho Chi Minh City, the press has discovered the violation may have been abetted by local inspectors.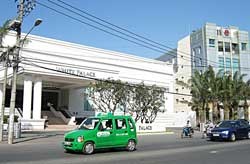 The White Palace at 194 Hoang Van Thu
The two-floor White Palace at 194 Hoang Van Thu street, Phu Nhuan district, built on 7,382 sq.m of land run by the military was opened December 1 but as early as May, local urban management authorities found the structure lacked a construction permit.
But only after a full five months passed and construction started to affect a National Assembly office next door did the district People's Committee report the matter to the municipal Department of Construction (DoC).
The latter then launched an official inspection but, by then, over 2,000 sq.m had been built.
In mid-October, inspectors from DoC filed a report concluding "the project is nearing its final stage and all construction indicators abide by current regulations, ensuring safety… the site boundary abides by criteria".
Ironically, such a technicality falls under the scope of the Department of Planning and Architecture (DoPA).
"On what basis did the inspectors know the site boundary and other landmarks abide by criteria considering a blueprint is lacking?", a DoPA leader who wished to remain anonymous told Nguoi Lao Dong newspaper.
"The inspectors' skills must be very high", this leader quipped.
The report, signed by city Deputy Chief Inspector Duong Ngoc Thanh, admitted, "the commissioning party has been unable to provide a blueprint ratified by the planning and architecture department, although it [the commissioning party] strictly followed construction regulations set out by the Ministry of Defense".
However, Thanh recently said that, despite the White Palace lying on military land, its usage is civil and commercial and therefore general construction regulations must be obeyed.
Senior Inspector Nguyen Nhu Hong earlier told Sai Gon Giai Phong he faced obstacles to inspecting the site because it is on land belonging to the military and is thus closed to outside administrators.
Meanwhile, yesterday, the construction department held a meeting with Tay Nam Import-Export Trading Company [the commissioning party] and others involved, but reached no fruitful decision.
The DoC however instructed all parties to report fully on the matter to the municipal People's Committee by the 10th of this month.
Later the same day, Committee Vice Chairman Nguyen Huu Tin said a meeting will be held on the 10th to decide the building's fate. According to the deputy mayor, there will be "no exception and no leniency in penalization".
Tay Nam, a military-run firm, has leased the plot to Nam Bac Hospitality Co Ltd. The latter hired contractor Tan Ky Construction Service Co to do the building, which Tay Nam said cost VND70 billion (US$4.37 million) and was completed in over 200 days.