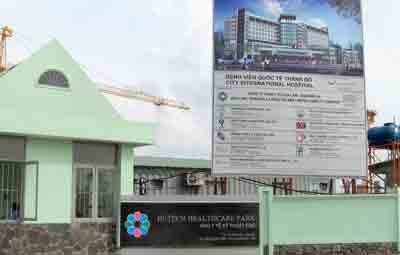 Thanh Do International Hospital under construction in the hi-tech healthcare park in Binh Tan District (Photo: SGGP)
At a conference on April 12, former Prime Minister Phan Van Khai expressed his appreciation at creating a world-class integrated hi-tech healthcare park in Binh Tan District, and also shared the hope that it would meet all needs of medical care.
Hoa Lam-Shangri-La Healthcare LLC, the investor of the healthcare park, stated that about 50 per cent construction of the Thanh Do International Hospital in the park was complete as per schedule and hoped that the facility would be ready by October 2012.
The grand opening of the international hospital will be in the beginning of 2013.
Hua Ngoc Thuan, vice chairman of the People's Committee of Ho Chi Minh City, praised the construction team for completing the project on time and asked the investors to speed up other procedures, such as training and employment of human resources, so that the hospital can run efficiently.
Vice chairman Thuan hosted the conference on April 12, which was attended by heads of several related government departments and local authorities of Binh Tan District.