The Japanese Government has given US$853.211 to Vietnam for eight projects as part of an ongoing non-refundable assistance program in a meeting at the office of Consulate-General of Japan at 261 Dien Bien Phu, Ho Chi Minh City's District 3.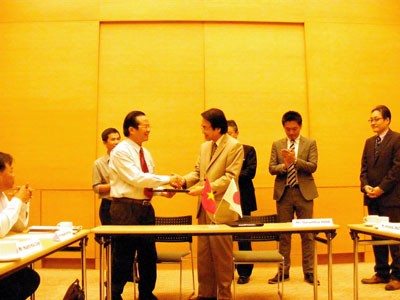 At the giving ceremony (Photo: Thanh Hang)
Japanese Consul General Hida Harumitsu handed over the money to representatives from educational institutes and medical clinics.

Accordingly, four educational projects will be to build Duc Tin 1 Primary School in Duc Linh District and Hoa Minh Kindergarten and Primary School in Tuy Phong District in the central province of Binh Thuan; Bao Thuan Primary School in Di Linh District in the highlands province of Lam Dong, and Tan Hoa B Primary School in Tieu Can District in the Mekong delta Province of Tra Vinh worth up to U,S$.
454,257.
While the project, costing US$45,903 will be for water supply systems installation for Vinh Binh Commune in Vinh Hung district, in the Mekong delta province of Long An.
The rest of the money will buy medical equipment for the general hospitals in Phung Hiep District in the Mekong delta province of Hau Giang, Tan Hong District in the Mekong delta province of Dong Thap, and Bu Dop District's in the southern province of Binh Phuoc.