The Ho Chi Minh City Journalists Association and the HCMC Police awarded the second 2006 press prize "For City Peace" on Wednesday, giving top honors to Sai Gon Giai Phong Newspaper for its stories propagandizing police work and patriotic deeds.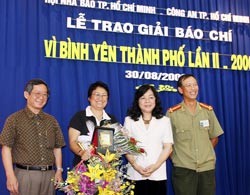 Pham Thuc (2nd L), writer of the Sai Gon Giai Phong newspaper, wins the first prize
The ceremony was held in tribute to the 61st anniversary of the August Revolution, National Day (September 2) and the anniversary of the foundation of Viet Nam People's Public Security force.

At the ceremony, Colonel Le Dong Phong, deputy director of the HCMC Police, spoke on behalf of the press contest organizing board when he said that journalists' articles are keen tools in the fight against crime and in encouraging people to come together in protecting the fatherland's security and HCMC's peace.
Mr. Duong Trong Dat, vice chairman of the HCMC Journalists Association, editor-in-chief of the Sai Gon Giai Phong newspaper, and chairman of the contests board of judges, appreciated contest writings and hoped that there would be more and more beautiful articles about people who contribute to ensuring political and social securities.
Prizes were awarded to twelve among 33 writings in the final round.

The contest is an example of the HCMC police force's many positive community activities and is a part of the national movement encouraging the protection of the fatherland's security and creating peaceful life.

The SGGP newspaper won first prize worth VND10 million. There were two second prizes worth VND8 million, three third prizes worth VND5 million and six consolation prizes.