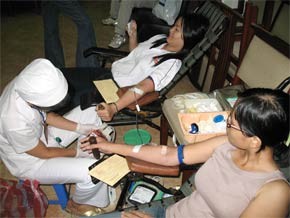 Saigon Times journalists donate blood on Sunday (Photo: Tuong Thuy)
About 70 people came to the Saigon Times Group's headquarters in Ho Chi Minh City on Sunday to donate their blood to Viet Nam's Red Cross for the medical treatment of other people.
Among the donors were Mr. Bill Johnston, Canadian Consul General in the city, and his wife Jan, staff members of Saigon Times and the banking group HSBC. Sai Gon Tiep Thi reporter Trinh Le Duy An, who had donated blood more than ten times, also joined the day. 
"Organizing the blood donation day is a way for us and our readers to demonstrate our community spirit," said Mr. Tran Ngoc Chau, Saigon Times deputy editor-in-chief, who is in charge of the Saigon Times Weekly. 
Saigon Times reporter Vu Yen Dung said she came to give her blood as she was well aware of the importance of blood donation. The 28-year-old journalist said her younger brother had given his blood many times, and is a member of a group of donors who will be present at hospitals in Ho Chi Minh City in case of emergency just after a phone call.
The blood donation day, jointly held by the Canadian Chamber of Commerce in Viet Nam, was among the activities the Saigon Times Group is organizing to celebrate the 15th anniversary of the Saigon Times Weekly and the 11th anniversary of the Saigon Times Daily.