Many South Korean firms and groups have poured capital into Ho Chi Minh City and pledged to continue investment in the city with advantageous investment environment.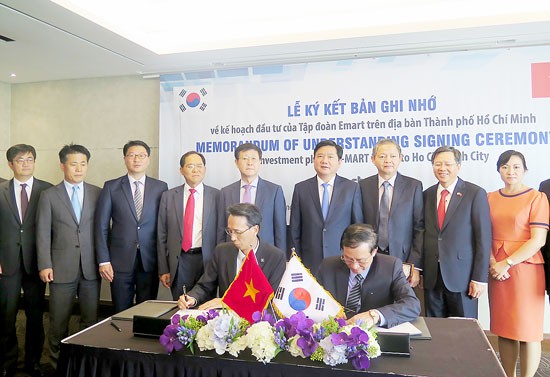 HCMC Party Chief Dinh La Thang (4th, R) witnesses the signing ceremony of a cooperation Memorandum of Understanding between Emart Group and the HCMC Investment and Trade Promotion Center recently (Photo: SGGP)
These are parts of results from a working visit by a city's high level delegation led by HCMC Party Chief Dinh La Thang to the Republic of Korea (RoK) from September 7-14.
According to deputy chairman of the city People's Committee Le Van Khoa, RoK has so far been the fourth largest investor in HCMC with 1,252 projects having the total investment capital of US$4.3 billion.
During the first eight months this year, the two sides' trade turnover topped $2.6 billion. HCMC received 240,000 Korean visitors.
Of Korean investors, Hyosung Group has revealed its plan to invest $1.12 billion in Vietnam in the phase of 2016-2020.
In HCMC, it plans to invest in five fields including petrochemical, logistics-ports and storage (LPG), electricity, environment and construction, says Hyosung deputy chairman Mr. Yoo Sun Hyung.
At present, the group is studying to invest in 73 kilometer long belt road no.3 and 197.6 kilometer belt road no. 4 projects in the city with the total capital of $1.8 billion and $5.3 billion respectively.
Emart Group signed a Memorandum of Understanding (MoU) to invest in HCMC by 2020 with the total funds of $200 billion in South Korea on September 9.
Mr. Choi Kwang Ho, director general of Emart Vietnam, said that the group's investment in HCMC has been advantageous thanks to positive assistances from the city's leaders.
The company is seeking a partner in HCMC to sell Korean products in Vietnam now.
Chairman of Lotte Group Shin Dong Bin said that they had made a deposit of $5.5 million to develop Thu Thiem Eco Smart City project, hoping that HCMC will give the group assistances to do procedures to invest in the project.
In addition, the group has interested in an urban railway project to link Ben Thanh depot up to Thu Thiem new urban area and affirmed to continue developing fields that it has already invested in Vietnam such as Lotte Mart supermarket system, Lotteria fast-food restaurant chain, cinemas, food production, home shopping and others.
Lotte has also signed MoUs with large businesses from HCMC in trade, export-import and fresh and frozen food distribution.
Mr. Kim Chul Ha, permanent member of CJ Group's board of directors, said that CJ determined Vietnam especially HCMC to be a large and potential market for the group to boost investment in the upcoming time.
The group has contracted with Saigon Trading Corporation (Satra) for food trading in Vietnam.
Specifically, CJ CheilJedang, a subsidiary of the group, will work with Satra to develop new food products basing on their existing products. In addition, it will also help Satra upgrade the retail system in Vietnam and boost marketing via training courses, promotional programs and new product introduction schemes.
The group has also paid heed to the equitization of state owned enterprises in the country and wanted to buy shares of these businesses. It expects to increase investment capital in HCMC up to $500-600 million early next year, Mr. Kim affirmed.
Expecting new investment wave from RoK
The Korea Institute for Industrial Economics and Trade (KIET) has recently organized an opinion poll about investment environment in Asian markets, focusing on Hanoi and HCMC of Vietnam, Delhi, Mumbai and Chennai of India; Shanghai, Chengdu and Qingdao of China; Yangon of Myanmar and Jakarta of Indonesia.
The poll's results show that Hanoi and HCMC are ranked the first and second in the list.
Over one fifth of polled people estimated that HCMC has a high quality human resource and abundant manpower supply.
Besides, 50 percent of businesses surveyed expected that investment environment in Hanoi and HCMC will continue improving.
Awaiting a new wave of Korean investment in HCMC, deputy chairman of the city People's Committee Le Van Khoa affirmed that global integration has been taken place strongly in Vietnam with transparent and open policies.
The city welcomes foreign investors including Korean and facilitates their operations, commits to continue accompanying them and consider their successes as the city's, he stressed.