Deputy Chairman of the HCMC People's Committee Le Thanh Liem and mayor of South Korean Daegu city Kwon Young-jin chaired a HCMC-Daegu business seminar yesterday afternoon during the mayor's visit to the city to promote investment and trade.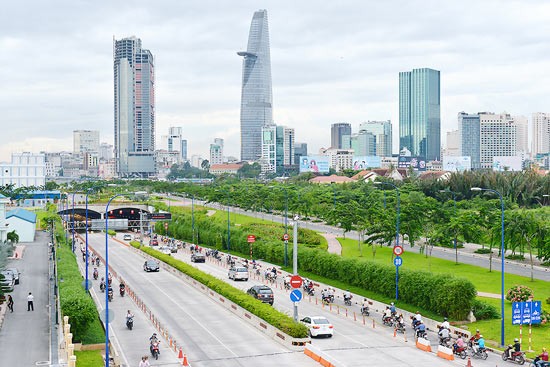 Vo Van Kiet boulevard in HCMC (Photo: SGGP)
The first ever seminar in HCMC by the Trade and Investment Promotion Centers of the two cities is part of a string of events during the mayor's visit.
It was attended by nearly 100 Vietnamese and Korean businesses from many fields.
Deputy chairman Le Thanh Liem said that the strategic partnership between Vietnam and South Korea has well developed. The country has continued to be Vietnam's largest foreign investor and top three trade partners.
The Vietnam-South Korea Free Trade Agreement taking effect last yearend has opened more economic cooperation opportunities for Vietnamese and Korean businesses, contributing in getting the bilateral turnover target of $70 billion by 2020 as per expectations by senior leaders of the two countries.
Mayor Kwon Young-jin said that Daegu is the fourth largest city after Seoul, Busan and Incheon of South Korea and home to 2.5 million citizens and many large groups including Samsung.
About 80 Daegu companies have invested in Vietnam, he added, affirming Vietnam is an important partner of the Republic of Korea.
"When I asked Dageu firms where the city should open representative offices to assist their operations, they answered Shanghai and HCMC," he told.
Hence, the representative office of Daegu city was opened in HCMC on October 10.
Daegu Bank has also registered to set up a branch in HCMC and Mr. Kwon said he was planning to meet Prime Minister Nguyen Xuan Phuc to talk about that.
At the seminar, Daegu businesses expressed their interest in real estate sector especially projects in District 2 of HCMC, building-management technology transfer, opening of fashion and design schools and institutes and interior design. They hoped to be aware of investment procedures.
Some worried that recently South Korea's investment in textile and garment in Vietnam has slowed down due to some reasons including basic salary increase. They asked what the Vietnamese Government's measures to lure foreign investors in this field.
Deputy Chairman Le Thanh Liem has required authorized agencies to specifically answer the Korean firms' queries.
On this occasion, seven memorandums of understanding and business or business related agreements were signed.