South Korea's GS Engineering & Construction Corporation (GS E&C) yesterday signed a memorandum of understanding with Ho Chi Minh City Department of Transport and Public Works (DoTPW) to implement the city's first and long-awaited elevated road.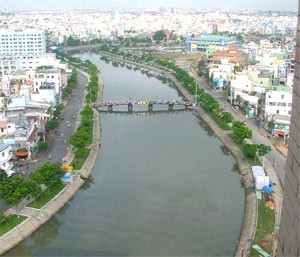 A long-awaited elevated road will be built along the Nhieu Loc-Thi Nghe canal
Road No.1 is to pass along the Nhieu Loc-Thi Nghe canal over the districts of Tan Binh, Phu Nhuan, Binh Thanh, 1 and 3.

To be 10.8 kilometers long and 17.6 meters wide, Road No. 1 should allow vehicles to travel at a speed of up to 80kph.

Construction cost of the build-operate-transfer (BOT) project is initially estimated at VND4.7 trillion (US$294 million).

At the signing, GS E&C Vice Chairman Lee Hwi Sung said after surveying Tan Son Nhat's outer beltway and other city road projects that his company chose the Nhieu Loc-Thi Nghe elevated road.

The road will connect to the outer beltway in the city's east and roads in the south to help mitigate rising traffic congestion, Lee added.

HCMC DoTPW Director Tran Quang Phuong said the city would need to develop four elevated roads totaling 37 kilometers as part of the city's transport development plan to 2020.

Road No.1 is to become the city's main East-Southwest route and connect other three yet-to-be-built roads when Road No. 1 will also connect the southwestern, northwestern and eastern city to downtown.

The project is slated for completion in four years. GS E&C will hold a seminar on routes' design in mid-December.

The MoU's signing was witnessed by city Chairman Le Hoang Quan and Republic of Korea Consul General in HCMC Min Young Woo.

The idea for building an elevated road along the Nhieu Loc-Thi Nghe Canal came out in 2004, but the city has been unable to find adequate domestic investors capable of working within the city's budget.