A report by HCM City anti-corruption commission, submitted to the city People's Committee Friday, said corruption cases were not being adequately addressed and were not reducing bribery.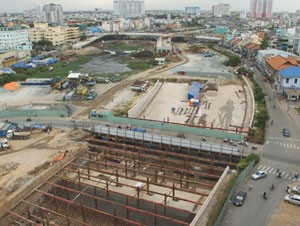 East-West Highway Project construction in HCM City allegedly linked to high level bribery
After carrying out a range of corruption inspections in HCM City, the commission said that local party and government leaders needed to set out a detailed plan to aid the fight against corruption.
According to the report corruption in the city is complex and in some cases foreigners are also involved.
Mr. Kieu Ngoc Trac, Deputy Chairman of the commission, said that 310 investigations into economic irregularities and mismanagement have shown losses of VND55 billion ($32.3 million) and 5,375 square meters of land.
The commission has taken back VND8.2 billion ($482,000) and 959 square meters of land, he added.
Inspectors in transportation, cultural and sport activities, and construction have suggested fines of VND 32billion ($1.88 million), the report said.
The commission has investigated several cases brought about by the public, including the Health Care Department's responsibility in the toxic soybean sauce scandal, and the issuing of a formation license to joint-stock company Chip Sang. It recommends charges be brought by the City against those responsible.