Due to the ongoing increases in land under housing development projects, many investors are now switching their investments in land to remote areas in Ho Chi Minh City's suburban Cu Chi district and neighboring Long An province.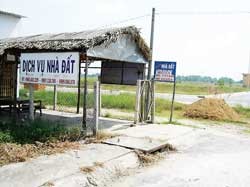 A real estate office in a suburban district hibernates due to stagnation in HCMC's real estate market
Despite a slowing of the city's real estate market, prices of plots for housing suburb have still increased.
Many accredit the rise to the city's issuance of a new framework for land prices which increased prices 10-50 percent. But so-called real estate experts insist the new pricing had no significant impact on land prices.
At the Thai Son Housing Development projects in District 7 land now costs VND12-16 million (US$748-997) at VND11.7-15.5 million (US$883-966) per sq. m. a fortnight ago.
Asked why land prices are increasing while the market is in a slump, an employee of a real estate company in Thu Duc district said owners raised price by 10 percent after the city set the new land prices.
ACB Real Estate Co.Deputy Director Vo Dinh Quoc, on the contrary, stresses the main purpose of the government's new frame of land prices is to stipulate obligations between the people and the state to prevent speculation.
Quoc added that even land compensations to be paid to people whose houses are cleared away under city's development projects will be still based on market prices, not on the state's new prices.
Land and house sales, like other business activities, are subject to economic market rules and people hastily raise their prices when hearing about higher prices coming from government, no matter what the rules. 
A director of a real estate company in District 7, on the other hand, blamed rising prices tricks by intermediaries trying to push prices up and make fat profits.
Notably, some real estate traders revealed that while the real estate market in the city is languishing, those in suburban Cu Chi district and Long An Province are hectic with investors attracted by the lower prices. 
Specifically, a square meter of land bordering Provincial Highway 10 in Cu Chi costs only VND 1.1 million (US$69), up from VND550,000 million (US$34) last year.
One investor revealed he purchased a 5,000-sq. meter plot in April in Tan Thanh Dong Commune of Cu Chi at VND100 million (US$62,332) and now a real estate agent has offered him VND600 million. He did not agree to sell.
Some investors in Cu Chi land are buying on expectations of higher prices when the land is cleared for infrastructure projects.
Lots in Long An Province have also been on the rise.  A square meter of land in the Long Hau 2 project now costs VND5.7 million (US$355) up from only VND3.2 million (US$199) three months ago. Plots of land in the Tan Do area of  Ben Luc Town are now at VND2.9-3.2 million (US$181-199) per sq. m., up from VND1.8-2.0 million (US$112-125).