The Transport Department in Ho Chi Minh City has implemented several measures to deal with traffic congestion, of which using dividers to control the traffic flow has proved quite effective.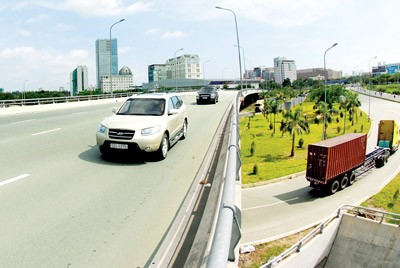 Vehicular traffic congestion has reduced on some streets after the Transport Department used dividers to improve the traffic flow (Photo: SGGP)
The Ham Nghi-Ton Duc Thang Crossroad in District 1 was one place that was constantly affected by the worst traffic jams. 
From March 17, the Transport Department set up dividers to prevent vehicles from turning left from Ham Nghi Street to Ton Duc Thang Street, resulting in more fluid traffic flow.
 
Organising the traffic flow has helped clear the usual traffic jam along Tran Hung Dao Street which was made into a one way entry route from Nguyen Tri Phuong to Chau Van Liem Street.
Similarly, Highway 1A in Thu Duc District and District 12 had to cope with notorious traffic jams. Since the beginning of the year, the department has been installing lane dividers to control traffic flow and have succeeded in reducing traffic jams.
 
A representative from the Transport Department said that setting up dividers has lessened traffic gridlock and also decreased accidents by 50-70 per cent.
The department is now working to organise the traffic flow in 30 other congested spots in various districts of the city.
These include Nguyen Huu Canh-Ton Duc Thang Crossroad in District 1; Cay Go roundabout in Districts 6 and 11; Lac Long Quan-Ni Su Huynh Lien Crossroad in Tan Binh District; and Thanh Thai and Su Van Hanh Streets in District 10.