Laotian journalists visited Sai Gon Giai Phong's head office to discuss a program in which the two countries aim to commemorate the victims of the Vietnam War and provide support to people living along the former Truong Son Trail.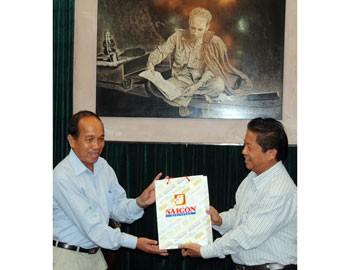 SGGP editor-in-chief Tran The Tuyen (R) gives a present to Director General of Paxaxon Newspaper, Bualaphanh Thanphilom (Photo: SGGP)
SGGP editor-in-chief Tran The Tuyen said SGGP and Paxaxon Newspaper, whose Director General Mr Bualaphanh Thanphilom led the Lao delegation, would join hands to organize the "Affection for Truong Son" program, a campaign launched by Sai Gon Giai Phong in 2009 to rebuild historical sites along the Truong Son Trail, also known as the Ho Chi Minh Trail, and help veterans and people living along the road.
The project aims to commemorate martyrs who died on the Truong Son Trail during the resistance war against the Americans.
Mr. Bualaphanh said at the July 1 meeting that he was ready to cooperate with SGGP to organize the program in Laos and strengthen the cooperative relationship between SGGP and Paxaxon.
Mr Tuyen also spoke with the Laotian journalists about his newspaper's achievements and charity work over the past 35 years.
He said he hoped to expand the cooperative relationship between SGGP and newspapers in Laos.