A seminar on building a reading culture and strengthening public library activities for children was held in Ho Chi Minh City by the Ministry of Culture, Sports and Tourism.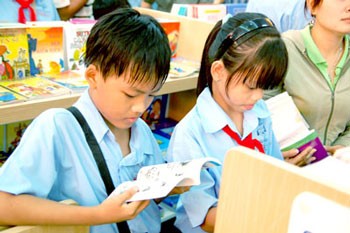 Children reading in a bookstore.
According to the ministry, children's libraries have grown well throughout the country and many libraries in states play a key role in the development of young children.
Many libraries built and financed by private individuals give a chance to children to develop a reading habit and learning skills.
However, poor infrastructure, cramped and narrow spaces are some reasons that fewer kids visit libraries. Some recently opened libraries operate irregularly and have little to offer with interesting activities to attract young readers.
For example, Cat Tien District Library in the central highland province of Lam Dong is located in an unofficial house of the provincial radio station for five years. Furthermore, lack of skilled and professional staff and librarians is a drawback.
Ms. Nguyen Thanh Xuan, director of Ca Mau Library said that parents should guide their children to choose useful books and take their kids to libraries frequently.