Around VND178.11 trillion (US$7.98 billion) was lent to more than 19,150 businesses in HCM City in the first nine months of the year under a programme that help connects banks with businesses, according to the State Bank of Viet Nam.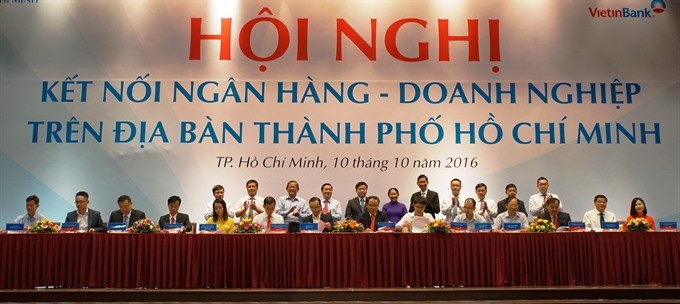 HCM City based businesses and VietinBank sign credit contracts at a meeting held in HCM City on October 10. — VNS Photo
Speaking at a meeting held in HCM City yesterday, To Duy Lam, director of SBV's HCM City branch, said the programme had helped 25,769 businesses in the city access bank loans, with a total of VND 405.72 trillion disbursed since it began in 2012.
Le Duc Tho, general director of VietinBank, one of the pioneers of the programme, said VietinBank had provided a total loan of VND 250 trillion in the period from 2012 to the end of last month.
In the first nine months of the year, it disbursed VND 95 trillion, ranking first among commercial banks taking part in the programme, he said.
At the meeting yesterday, VietinBank's 21 branches in the city signed contracts to provide a total loan of VND 32.87 trillion to 104 small- and medium-sized enterprises (SMEs), and businesses operating in the parts supply, hi-tech and agricultural industries and export firms.
Including these loans, total disbursement for this year is estimated to be more than VND 100 trillion, which is VND 10 trillion higher than its registered figure for the programme this year, he said.
Tran Vinh Tuyen, deputy chairman of the HCM City People's Committee, said in the past four years, the programme had enabled many businesses to access bank loans with simple procedures and less time, which greatly increased their productivity.
The city has set targets to maintain a high economic growth rate in the 2016-20 period by shifting its economic growth model and improving its competitiveness.
It plans to mobilise all resources to fulfill its targets, he said, adding that the city will work to further improve its business environment and better implement policies to boost the development of SMEs and start-ups.
"The city pledges to implement the programme connecting banks and businesses regularly and effectively, aiming to better support businesses," he said.
Trần Việt Anh, chairman and general director of Nam Thái Sơn Group, said the programme had greatly helped ease funding difficulties faced by businesses over the past few years.
Representing the SME community, he suggested that banks become more active in supporting business and have fair treatment for all businesses.
In addition, banks need to focus more on providing medium-term loans, he said, adding that they should expand lending in the US dollar since the import of machinery and raw materials was at a high level.
Anh said the current maximum interest rate of 7 per cent for short-term loans and around 9 per cent for medium- and long-term loans in Vietnamese dong and 3 per cent for loans in the US dollar were reasonable.
Lâm of SBV said the banking system in HCM City would continue to improve service quality, reform technology and take other measures to cut back input costs to reduce lending interest rates.
At the meeting, VietinBank and the HCM City Union of Business Associations signed agreements to promote the programme to enable more businesses to get loans.
The meeting was organised by VietinBank, the HCM City Department of Industry and Trade, and SBV's HCM City branch.