With Tet (Lunar New Year) approaching, sweet makers are scrambling to hit the market in good time.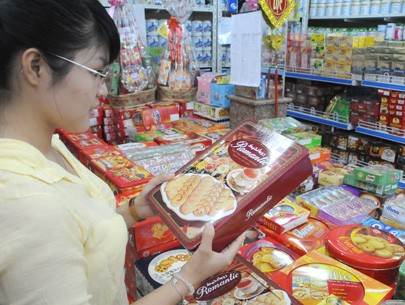 A HCMC resident looks over sweets at a supermarket. With the Tet holidays, the peak season for sweet sales, approaching, producers are hoping for a windfall (Photo:TTO)
With the top domestic companies fighting it out with imports for the upmarket niche, many new producers have come into the market with low-priced offerings.
At Binh Tay market in Ho Chi Minh City's District 6, canned sweets bearing unfamiliar brand names are selling like hot cakes. A shopkeeper said since these sweets cost just VND18,000-20,000 for a pack and VND32,000-42,000 for a can, they are popular in the outskirts and outlying districts.
A wholesaler in Binh Chanh District said consumers prefer these brands despite their ordinary quality due to their low prices and colorful packages. With the recent tainted food scares, their "Made in Vietnam" logo also distinguishes them from Chinese products.
Most of these inexpensive sweets are made by small manufacturers in Districts 5, 6, and 8.
H.L, a distributor, explained the reason behind their low prices. He revealed that cheap sweets are made using a high proportion of flour and additives rather than eggs, milk, or butter. Besides, their producers spend little on facilities, advertisement, or wages.
At the upper end of the market, though importers of some Korean and Thai sweets are offering high commissions and the products themselves are VND20,000-30,000 cheaper than big local brands, few agree to sell them because they are unknown to Vietnamese consumers.
At Binh Tay market, sweets imported from Malaysia and Indonesia are sold for VND39,000-40,000 a can, 10 to 15 percent lower than many Vietnamese-made sweets.
But a representative of Hoang Mai, a distributor of sweets and cakes, said with supermarkets giving preferential treatment to Vietnamese-made products this year, foreign brands are finding it hard to find shelf space.
A wholesaler at Tan Dinh market District 1 said foreign products made a late entry because of the recent melamine scandal and long market slump because of inflation.
Consumers, fully aware of food quality issues following the melamine and other scares, are wary and prefer to buy at supermarkets where there is ostensibly a guarantee of quality.