Many districts in Ho Chi Minh City have proposed the city People's Committee to remove industrial cluster plans in their localities because most of the planned clusters have been unable to call for investors to build technical infrastructure and wastewater treatment systems.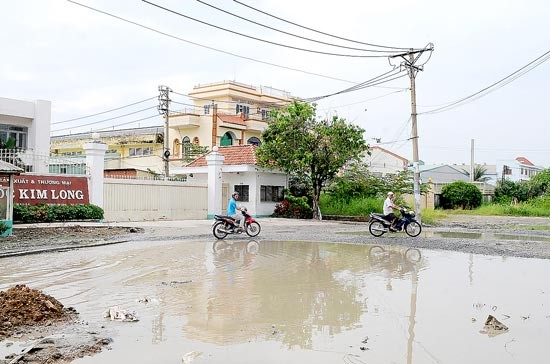 District 8 People's Committee proposes to change Binh Dang Industrial Cluster into a commerce and service area (Photo: SGGP)
Of the 30 industrial clusters under planning in HCMC, only three are fully built infrastructure while the remaining 27 are trying to seek investors.
Before the city made the planning, thirteen of the clusters without infrastructure were industrial production sites situated in residential areas.

Phu My Industrial Cluster stretching 80 hectares in District 7 has no investors to build its technical infrastructure and wastewater treatment plant but it is home of 25 businesses. Surrounding residents have gradually infringed the cluster land to build their houses, narrowing the area to only 43 hectares now.
Similarly Binh Dang Industrial Cluster has 28 businesses alternating with resident houses in a densely populated area. Its infrastructure has downgraded and there are no drainage systems, causing flooding when high tides or heavy rains occur.
Eleven other industrial clusters have been in a dilemma because of having failed to call for investors. Local businesses have strived to survive by building their own wastewater treatment systems while citizens have built their houses close to plants in the area.
Experts from industrial and export processing zones' infrastructure construction field said it is impossible to build infrastructures in the clusters with plants under operation.
Besides many planned portions belong to the ownership of local citizens and businesses, meaning investors have to compensate and relocate them to make room for construction of the cluster infrastructures.
The issues have caused waste for the society and environmental pollution at industrial clusters for the last decades.
As a result, the People's Committee in District 8 has proposed the city People's Committee to remove Binh Dang Industrial Cluster from the planning and change its into a service and commerce center.
Binh Tan District has also suggested lifting the Western Highway 1A Industrial Cluster from the planning because there has no businesses or infrastructure investors there.
Hooc Mon District asked for changing Tan Hiep A and Tan Hiep B industrial clusters into rural residential areas. District 12 recommended taking Tan Thoi Nhat and Hiep Thanh industrial clusters out from the planning.
Hiep Binh Phuoc cluster in Thu Duc District has over 40 businesses under operation. Few have invested in wastewater treatment facilities while some others have planned to build apartment blocks. Hence the district has suggested the city to abolish the industrial cluster plan there.
According to Mr. Tran Anh Hao, head of the Industrial Management Office under the city Department of Industry and Trade, it is necessary to change the planning of industrial clusters.
Those larger than 75 hectares and meeting infrastructure conditions should be developed into industrial zones.
Less than 75 hectare clusters but which can attract investors for their technical infrastructures should see the plan unchanged.
Industrial clusters where businesses are operating in residential areas and have no infrastructure investors should be removed from the planning and changed into other urban functions.
The Department of Industry and Trade has recommended the city People's Committee to propose the Prime Minister to assign industrial cluster management to the management board of industrial and export processing zones.