Individual investor, Nguyen Thi Bach Hue, has spent over VND7 billion (US$350,000) to build 72 adequately equipped stalls for the Tu Tram market in the Binh Tan District, but the market has been all but abandoned since 2007.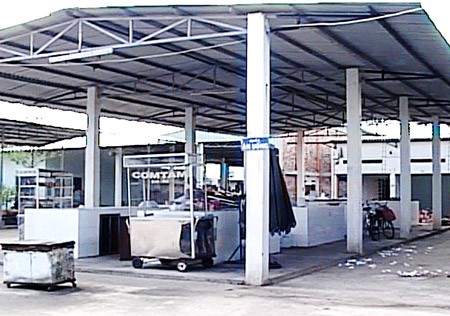 The Tu Tram Market in the Binh Hung Hoa Ward of Binh Tan District has been bare since 2007. (Photo:SGGP)
Meanwhile, a disorganized market 200 meters long has emerged spontaneously, causing untidiness and obstructing traffic.
Tu Tram Market, 3,000-square meters, market was built in 2006 by Hue, seeking to create a venue in which businesses could follow regulations. However, after just three months of operation, the market became fallow.
Hue, head of the market management board, said that when she took borrowed money from a bank to build the market, she thought that the Binh Hung Hoa Ward People's Committee would shut down the spontaneous market operation once the Tu Tram project completed. However, the local authorities could not implement effective measures stop the spontaneous market operation.
Although the price to rent a stall is only VND150,000 ($7.5) – 350,000 ($17.5) per month and traders do not have to pay any fees for the first three months, only two of 72 stalls currently operate.
Trader Ngo Thi Dung said most people buy goods at the spontaneous market because they feel that buying goods on sidewalk is more convenient than buying goods in the market.
Dung said traders at the spontaneous market do not pay taxes and have more buyers. At first, many traders rented stalls within Tu Tram, but with a few buyers they were forced to sell their goods outside, Dung added.
According to Phan Thanh Long, deputy chairman of the Binh Hung Hoa Ward People's Committee, the ward still punishes traders who encroach on the road to sell their wares, but authorities lack the manpower to stop the spontaneous market that runs outside Tu Tram.
Many people claim that the spontaneous market causes environment pollution and traffic jams, but it is difficult to stop it nonetheless.
The market investor Hue has recently asked the Binh Tan District People's Committee to change its methodology in dealing with the situation. Her proposal has been accepted.
Many people also said that it is necessary to operate a market like Tu Tram market because it does not encroach on the road follows sanitation guidelines.