The Hospital of the University of Medicine and Pharmacy at Hochiminh City began building an extension to its existing hospital at 215 Hong Bang Street, District 5 on April 12, with the total investment capital of VND200 billion (US$12.5 million).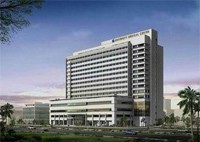 The model of the new hospital
The new 15-storey and two-basement building has 600 beds, 40 rooms for medical examination and 15 for surgery.
Body organ transplants, open heart, orthopedic, chest, craniotomy and aesthetic surgeries will be performed here.
The hospital has four units with 450 beds, receiving 2,500 patients daily. In addition, it is in charge of training and providing healthcare human resources for the Southern region.
"The hospital is expected to finish around the second quarter of 2008," Dr Nguyen Hoang Bac, Deputy Manager of the hospital of the University of Medicine and Pharmacy, says.