Despite lacking a city construction permit, though having a city business license, the White Palace complex located on military land in Ho Chi Minh City has been permitted to resume operation after having had its business suspended by the city on December 7.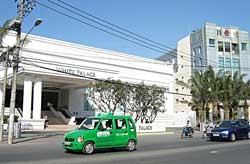 The White Palace at 194 Hoang Van Thu Street
A city leader explained that since the two-floor complex in Phu Nhuan District is located on a military-owned 7,382 sq.m. land plot, the structure belongs to the military and all its construction activities follow regulations of the Ministry of Defense, not city construction regulations.
The construction of the VND70 billion (US$4.37 million) complex at 194 Hoang Van Thu Street had been ratified by the defense ministry already, sources confirm.
"The city only pays attention to its quality and safety regulations", said the official who insisted on remaining anonymous.
The military-run Tay Nam Production Trading Import Export Co, which leased the plot to the Nam Bac Hospitality Company for the White Palace project, reportedly hired its own experts to assess the building's quality.
The Viet Nam Construction-Design-Investment Shareholding Company later filed a report saying the White Palace's construction quality meets national standards.
Just a while ago, city Deputy Chief Inspector Duong Ngoc Thanh held a different view, saying that, as the White Palace was being used for civil and commercial purposes [for leasing to weddings and conventions], it must obey general construction regulations issued by the city government. That is now apparently not the case.
Topped off and opened December 1, the White Palace boasts seven dining halls and has a total usable space of over 24,000 sq.m., capable of hosting 3,200 guests.
Related story: