The Ministry of Transport has forwarded a proposal to the Ministry of Finance asking for a reduction in toll fees on the Ho Chi Minh City-Trung Luong Expressway.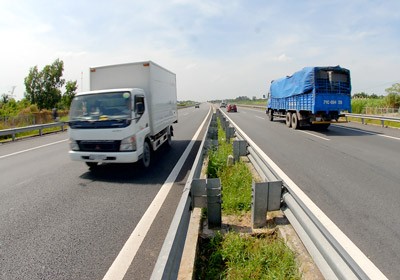 Trucks plying on HCMC-Trung Luong Expressway (Photo: SGGP)
The proposal was initially put forward by the Transport Associations of HCMC and An Giang Province in the Mekong Delta, who have been relentlessly cribbing about the high toll fee charges.
According to the proposal sent by the Ministry of Transport, the first toll fee reduction should be on trucks of 18 tonne or more capacity and on 40 feet container lorries, by at least 25-30 per cent.
The current toll fee is a maximum VND320,000 per trip, which is far too high and has raised protests from transport businesses.
At present, most businesses use heavy trucks to transport commodities from HCMC to provinces in the Mekong Delta, said the HCMC Cargo Transport Association.
Besides, the Transport Ministry has also agreed not to charge any toll fee on National Highway 1A in Binh Chanh District, as earlier proposed. The Ministry is however awaiting instructions from Prime Minister Nguyen Tan Dung on this matter.
Related articles:
HCMC-Trung Luong Expressway to charge toll fee
Transport Association proposes cut in expressway toll fee
Toll fee proposed on vehicles plying National Highway 1