A Ho Chi Minh City official has said the VND300 billion (US$17.6 million) the administration has earmarked for cleaning up the Ba Bo canal, which has been badly polluted by industrial waste, is not enough.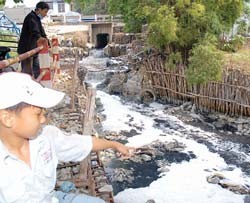 Ba Bo canal, in HCM City's Thu Duc District, has been badly polluted (Photo: SGGP)
Nguyen Van Phuoc, deputy director of the city's Department of Natural Resources and Environment, said the money – allocated last year -- is enough only for acquiring and clearing land and some minor works.
More is needed for cleaning up the polluted soil and groundwater, not to mention the medical expenses of local residents affected by the pollution, he said.
Dang Van Khoa, a member of the People's Council, the city legislature, said with many other canals too badly polluted, VND300 billion for each would see the total amount exceed the city's entire development budget of VND5 trillion for 2009.
He also called on manufacturers operating in Song Than I and Song Than II industrial zones to contribute money to the clean-up of Ba Bo, calling it a necessary and fair contribution.
 
The cost of treating a cubic meter of wastewater is VND15-20 million and operating a treatment system, VND6,000 – 12,000, said Dr. Nguyen Trung Viet, head of the Solid Waste Management Office of the department.
But these are much less than the cost of cleaning up pollution, he said.
Thus, the issue is how to force businesses to comply with environmental regulations, including those on waste treatment, he stressed.
Dr. Le Huy Ba, head of the HCM City Industry University's Environment Institute, suggested that the government should consider reducing land rentals for businesses that are required to install waste treatment systems.